TukTuk Porto – Yacht Tour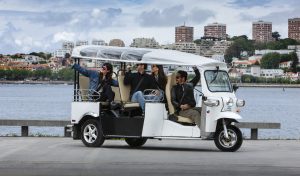 Duration: 3 Hours (approx.)
Location: Porto, Porto
A promenade by the Douro will begin with the Arrabida bridge. A remarkable bridge of Portugal, both for its dimensional characteristics as well as for its architectural and historic interest. It was designed in March 1952 by Edgar Antonio Cardoso de Mesquita. Arrabida bridge was for some time the world record holder for arch bridges reinforced concrete through his doorway nearly 270 m.
Slowly our boat arrives in Porto, within focus Luis 1st bridge and a magnificent view of old Porto, a mosaic of colors.

The bridge Louis I. was built in 1881 by engineer Théophile Seyrig, a disciple of Gustave Eiffel, it is very similar to Di Maria Bridge, located further upstream.
Then Infante bridge In tribute to the Infante Henrique de Porto, it has a drop of 11.2 meters and a canopy of 280 meters, boasting a world record in this style of bridge.
D. Maria bridge Historical figure, in honor of Maria Pia of Savoy, wife of Louis I, nicknamed "angel of the poor ", is a large railway viaduct. This steel arch bridge, the first railway to link the two shores of the Douro bridge was designed by Gustave Eiffel and his partner Théophile Seyrig. Opened in November 1877, it is decommissioned and doubled by a modern book, São João Bridge since 1991.
Here is another famous bridge of the city of Porto. Sao Joao bridge. It was built of white concrete, near the bridge Di Maria so there is a visual contrast between the two. This bridge was designed by Edgar Cardoso and inaugurated in 1991, the day of St. John (São João), hence its name.
And to finish the Freixo bridge There are actually two bridges built side by side and spaced only by 10 cm. Inaugurated in September 1995, it was directed by Antonio Reis. Steadily, our boat will join the marina ….
to finish at the nature reserve, where you can observe the nature reserve and its many species of birds.
Starting point: Largo dos Loios, Porto or in front of the "Caves Porto Calem" in Cais de Gaia.
Duration: 3h30 (from Porto) / 3h00 (from Gaia) approx.
Return Details: Returns to the original departure point.
Minimum of 4 people per tuk

*Pick-up/Drop-off is not included but is available as an extra!
Pick Ups and Drop Offs are subjected to traffic limitations
*If you have trouble booking, please send us an email on info@tuktour.com
* Please bear in mind that this experience is a 1h30 Tuk Tuk Tour, this means that In the event of traffic or any other restrictions beyond our control, this may lead to changes regarding the planned stops in order to meet the schedule.