TukTuk Porto Douro – Left Bank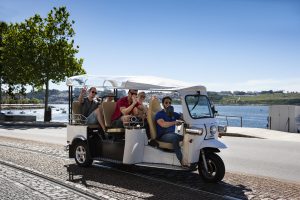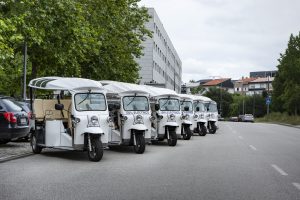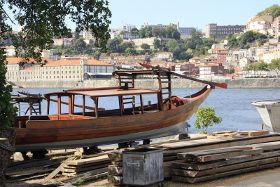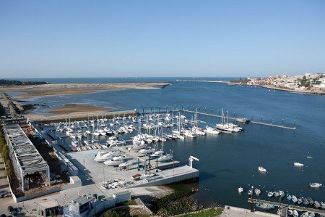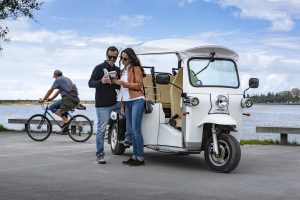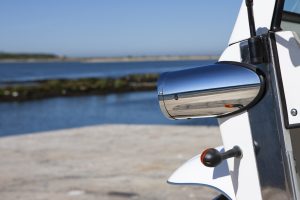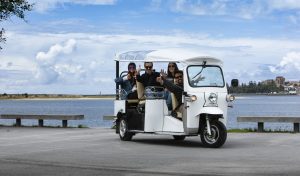 Duration: 90 Minutes (approx.)
Location: Porto, Porto
Starting at Ribeira de Vila Nova de Gaia cellars located on the left bank of the River Douro, river which rises in Spain in the province of Soria, 2080 meters above the sea level, runs through Portugal and empties into the Atlantic. The city has experienced great prosperity in the 18th century and so far hosts the biggest Porto wine cellars whose activity dates back to 1692.
From our point of sale in front of the wine cellar Calem, we will begin our ecological journey by the discovery of flat-bottomed boats "Rabelos" 10th century that were used to descend the wine barrels in the spring. June 24, Feast of S.João (St. John), a regatta is organized with these old boats.
We pass under the concrete bridge measuring 615 meters long and 27 meters wide "Ponte da Arrábida" which connects the South to the North of Portugal and has a significant development for the whole country. This project was conducted by the engineer Edgar Cardoso and inaugurated on 22 June 1963.
Then the typical fishermen village São Pedro da Afurada known for its traditions and among others for its festival in honor of São Pedro (St. Peter), patron saint of fishermen in the end of June. Stroll the cobblestone-lined streets of houses tiled with azulejos, you will enjoy eat the catch of the day and notably grilled sardines served with « Broa de Avintes» under the watchful eye of this fishing community.
The Marina do Douro "Douro Marina" is a marina with 300 moorings for boats. This is a new concept that unites sport, leisure, tourism and nature in an innovative range of services and activities, aimed at resting sailors but also for boat lovers.
The natural reserve of the Douro Estuary: it is a real richness, 7 km from Pont Luis I, Cabedelo and Baia de S.Paio. The protection of birds and flora are the main objectives of this "station ". Migratory birds coming from Africa and Scandinavia can be found in this bird sanctuary, a protected area, a shelter to feed and recover strength before continuing their migration to the Eastern Atlantic area.
The Lavadores beach "Bandeira azul" . Vila Nova de Gaia offers 15 km of walking trails along the Atlantic from the beach of Lavadores "Bandeira Azul " to Espinho.
Starting point: Next to Torre dos Clérigos
Duration: 1h30 (from Porto) / 1h00 (from Gaia) approx.
Return Details: Returns to the original departure point.
*Pick-up/Drop-off is not included but is available as an extra!
Pick Ups and Drop Offs are subjected to traffic limitations
*If you have trouble booking, please send us an email on info@tuktour.com
* Please bear in mind that this experience is a 1h00 Tuk Tuk Tour, this means that In the event of traffic or any other restrictions beyond our control, this may lead to changes regarding the planned stops in order to meet the schedule.